HOW TO WRITE ABOUT... (an online six-week course)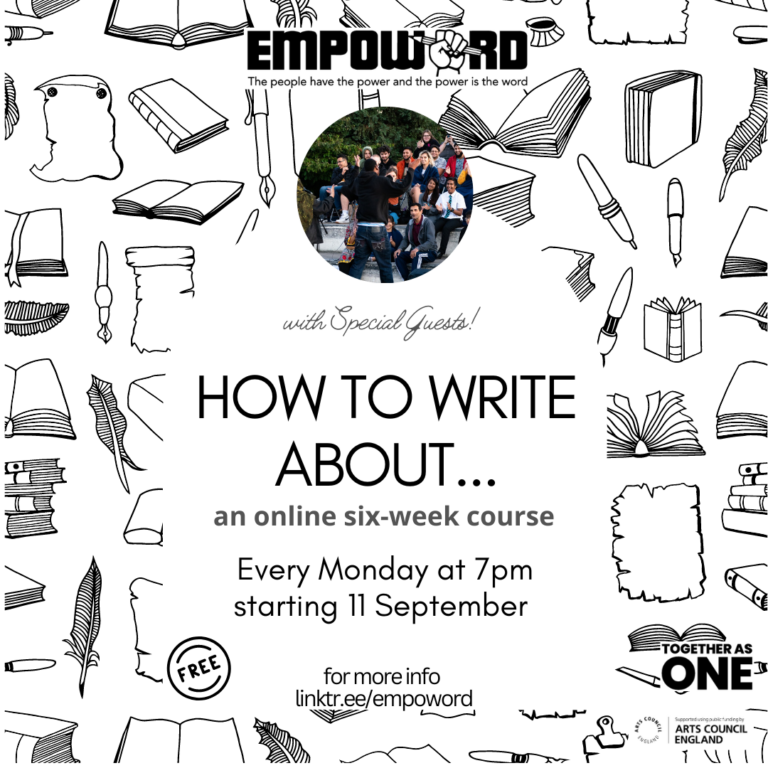 From LOVE to GRIEF, to POP CULTURE and HOME, this six-week course will explore a varitey of different themes in ways we can write about these common themes in more interesting ways. 
Each week, our facilitators will delve into a different theme, allowing you to explore an array of emotions, experiences, and perspectives. With each new theme, you'll gain profound insights, learning how to use language to evoke emotions, paint vivid imagery, and breathe life into your poems.
With opportunities to engage with your fellow participants, you will be able to foster a vibrant community of poets who will support and encourage your growth. Through constructive feedback and thoughtful discussions, you'll not only refine your poetic techniques but also forge meaningful connections with like-minded individuals. 
HOW TO WRITE ABOUT… 
HOME with SAFIYA KAMARIA KINSHASA on 11th September 
GRIEF with NINA TELEGINA on 18th September 
MENTAL HEALTH with CAZ SMILING on 25th September 
LOVE with TOBY CAMPION on 2nd October 
GREASE (and Pop Culture) with BRIDGET HART on 9th October 
TBC on 16th October
Safiya Kamaria Kinshasa is a British born Barbadian raised choreopoet and PhD student in Cultural Studies. Her interdisciplinary art, braids dance and poetry.

Safiya is an Obsidian Foundation alumni and an Apples & Snakes/ Jerwood Arts Poetry in Performance recipient. Her work has appeared in a variety of journals including Poetry London, Poetry Review, Wasafiri and The Caribbean Writer. 

Her debut poetry collection Cane, Corn & Gully (Out-Spoken Press) arrived in November 2022. Cane, Corn & Gully was shortlisted for the Rathbones Folio Prize 2023 and won Barbados' Gine On People's Choice Book of The Year Award 2023.  It has now been shortlisted for the Felix Dennis Forward Prize for Best First Collection 2023.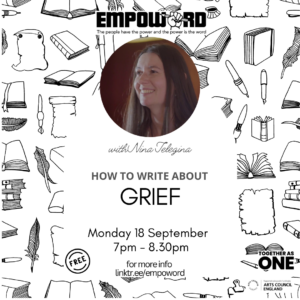 Nina Telegina is a poet, writer and theatremaker based in Kent. Her career spans a variety of forms, from interactive storyteling, to poetry, to theatre.

Nina uses her humorous, off-beat style to tackle difficult topics. In her work you might encounter delinquent llamas, defiant pirates, derelict gods, and even a self-aggrandising fart. Nina is a multiple poetry slam champion, whose debut collection Llama On the Loose was published by Whisky & Beards in 2021. She has featured in projects commissioned by the Marlowe Theatre and the Philharmonia Orchestra. Her poems have featured on BBC Sounds, and been selected for a number of international film festivals. 


Nina is currently touring her solo theatrical show, Renegades, which tells the stories of forgotten outrageous women in history, Renegades has traveled UK from Bristol to the West End, and its journey is now expanding as a result of Arts Council funding.
Nina is also co-director of Kent Poetry CIC, a non-profit dedicated to promoting the poetry industry in Kent.
Creator of the musical project "Caz Smiling" which blends music, spoken word and illustration to creatively communicate ideas around mental health and queer identity. Caz was the international guest at the Portugal Slam in Lisbon in October 2018 and the poet in residence at the Stanza poetry festival in St. Andrews, Scotland in March 2019, continuing to perform their work regularly at poetry and literary events across the UK.
They also curated from 2017- 2022 London's only regular 3-round Slam, Genesis Poetry Slam, and they are an artist-in-residence at the Vauxhall-based queer cabaret night Bar Wotever, with their first poetry collection 'Good Earth' now out with Burning Eye Books, 2019.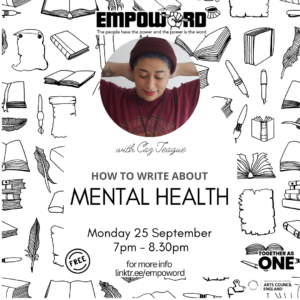 Toby Campion is an award-winning poet and playwright. A former UK Poetry Slam Champion and World Poetry Slam finalist, his poetry won the Aurora Prize for Poetry 2019 and was Highly Commended in the Forward Poetry Prizes 2018. His poems have been published widely, most recently in The Rialto, bath magg & The London Magazine, and his debut play WRECK won a Fifth Word Theatre Award for Most Promising Playwright. Toby is the Director of UniSlam and the founder of the National Youth Poetry Showcase. 
Bridget has performed across the UK at events including Manchester Punk Festival, Shambala, Boomtown Fair, Trans Pride Bristol and many a house show. In 2017 they released the debut pamphlet Better Watch Your Mouth with Burning Eye Books. Their work has also appeared in Paper & Ink Literary Zine, Untitled Writers, Dear Damsels, Ink, Sweat & Tears and Hollow Earth Zine.
Their second collection Chewing Gum is a queer retelling of characters from Grease and Grease 2 and is out now with Small Press Books.